Express America of Rockford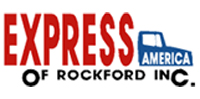 Look no further than Express America when you're searching for a professional company who specializes in local pickup and delivery, as well as expedited trucking, in and around Rockford, Chicago, Madison, Milwaukee, Minneapolis, Detroit, and Indianapolis. Not to mention they provide customized transportation (as well as the capabilities) to meet the specific needs of their customers.
Did we mention that Express America's fleet consists of cargo vans, cube vans, and straight trucks with a maximum length of 26' and able to handle up to 25,000 lbs? All of their trucks are fully equipped with an abundance of pallet jacks, liftgates, tag axles, and two-way communications.
Give Express America a call whenever you're in need! Their trucks are available 24 hours a day, 365 days a year.