Bella Luna Bakery
Write A Review
Bella Luna Bakery
based on

5

reviews
out of 5 stars
Reviewer:

Demetria DivaDee Wright

Service Rockford These ladies are AWESOME! We told them what we wanted and they made it happen
out of 5 stars
Reviewer:

Vincenzo Cosmo

Service Rockford Great fresh pastries, I can't go to downtown Rockford without stopping by for a canoli. They're easily the best part of the Rockford City Market as well.
out of 5 stars
Reviewer:

Jay Heather Hermes

Service Rockford Love these woman! Love their delicious goodies. We look for them at every event, hoping that we will get some of the yummy treats they bake with Love! ;)
out of 5 stars
Reviewer:

Melissa Ann

Service Rockford I cannot go to Stewart Square without stopping in to get a yummy treat! My grandmother was a baker, but we lost her a year ago. Bella Luna's scotcharoos are the closet thing to my grandomther's. It is always a nice treat for me :) Keep up the good work ladies!!!!
out of 5 stars
Reviewer:

Josh Johnson

Service Rockford Absolutely amazing bakery. Friendly and passionate service and high quality, authentic baked goods. The Fig Cookies are outstanding! I found a new favorite spot downtown.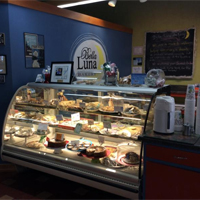 Currently owned by Polly Matranga Happach and Lorie Parker-Weinrich; Bella Luna Bakery combines Italian and Scandinavian baking to bring a unique twist on treats right here in Rockford, IL. Specializing in made-to-order desserts and other baked goods, Bella Luna Bakery in Rockford can bring treats to your catered office meeting, baby shower, bridal shower, birthday party, anniversary party, holiday party, wedding reception or even wedding! From cakes to cupcakes and cannolis to cheesecakes; Bella Luna Bakery has it all and is always coming up with fresh new ideas so contact us today to see what we have cooked up for the day.